CES 2012 – New products abound in the McIntosh Labs suite at the Venetian in Las Vegas. These handcrafted reference quality products establish a new standard in  audio components available from McIntosh both in value and in this product launch, even in the available price point of a McIntosh Labs audio/video product.
MX121 $6000 – AV Preamp/Processor
This new offering allows McIntosh audio quality to be mated with an extensive host of AV features and wide system integration. Users will be able to experience 7.1 decoding with the use of one or two subwoofers. Four optional channel outputs are on tap for left/right width and left/right height speaker placements. For additional zones there are two additional audio zone outputs to allow the user to send signals from the main zone sources to secondary zones. Each additional zone has independent volume control.  Digital audio signals are processed by an on-board Audyessy processing system including features such as MultiEQ, XT Auto Calibration with MIC and Dynamic EQ and Dynamic Volume. All Dolby and DTS listening modes are included for perfect audio mode selection. Apple iPod, Touch, iPad and iPhone may be connected and deployed using the USB input. AirPlay Wireless is also included. Audio may be played by streaming from network connected PC's, NAS Drives, Servers and the like. With Internet connectivity, the world of Internet Radio and Pandora are also provided. On the video side, Flicker is interfaced as a media provider. HDMI 1.4 makes connections to video and audio devices simpler than ever. A web interface allows even more capabilities of this very cool component. The beauty and construction quality of a McIntosh is clearly visible in this exciting preamp processor.
MC8207 $6000 7-Channel Power Amplifier with 1,400 watts of continuous power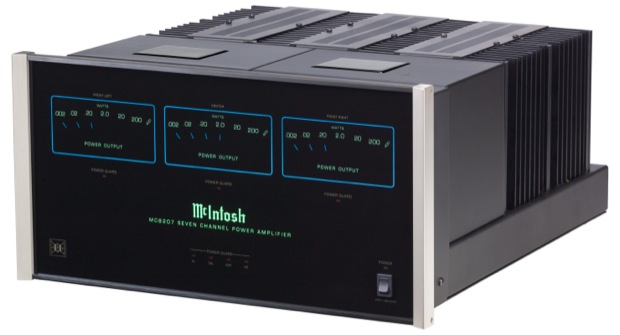 The MC8207 is the perfect mate for the MX121. It is a cosmetically scaled-back McIntosh amplifier but the performance of this power amplifier is not in any way   reduced. To achieve this remarkable price point, the engineering team at McIntosh did some remarkable things. The normal casework for a McIntosh transformer, chassis housing and heat sinks receive some remarkable finish work. In this product, they are not brought to the beautiful curved lines of the typical Mcintosh amplifier – but left sharper cornered and squared off in appearance. The classic blue meters are replaced by an electronic version. These chassis reductions are differentiated in cosmetics only and not in any way reduced in quality. So if one is willing to accept a more squared chassis and electronic metering, the MC8207 makes seven channels of 200 watts each available at a never before attainable price point.
MVP891 $5500 Handcrafted and Reference Quality Play-Any-Disc Player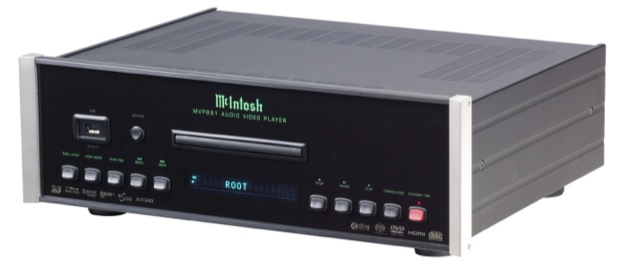 MVP891 Universal Blu-ray Disc Player plays any disc format of audio or video. It includes BD-Live Blu-ray Profile 2.0 web-enabled features as well. It is clearly a McIntosh – built to the highest quality, ready to deliver performance and simply beautiful to the eye and ear. BD-Live and file sharing using the end users home network has been added to the valuable feature array. Dolby TrueHD and DTS-HD digital to analog audio decoding with 7.1 channel analog outputs, with high performance stereo digital to analog audio decoding with four dedicated fully balanced DACs per channel leave this player with no sonic competitors. The MVP891 sports the best decoding section of any universal player. The full musical and theatrical experience will be realized using the MVP891. With it's Blu-ray capabilities, SACD and DVD Audio, CDs and DVDs all are played at their full potential with the MVP891.